The United States government is poised to approve the Infrastructure and Jobs Act: a major investment in infrastructure across the country to improve competitiveness, reduce inequality and poverty, create good jobs, and grow the economy while making it more sustainable, resilient, and equitable.
This $1.2 trillion legislation will invest in America's roads and bridges, water infrastructure, broadband internet for unserved and under-served areas, and more. The Act has been approved by the Senate and is awaiting the approval of the President to become a Law. $65 billion is identified for investments in broadband.
In addition to this, the Biden administration requested $39 million for the 2022 federal budget for advanced communications research at the NTIA, which would support the development and deployment of broadband and 5G technologies by identifying innovative approaches to spectrum sharing.
The investment in broadband deployment is a great opportunity for operators to improve digital equity by reaching remote areas of the country and expanding broadband service, and LYA stands ready to provide expertise in broadband, spectrum, and subsidy auctions supporting successful acquisition of funding by our clients.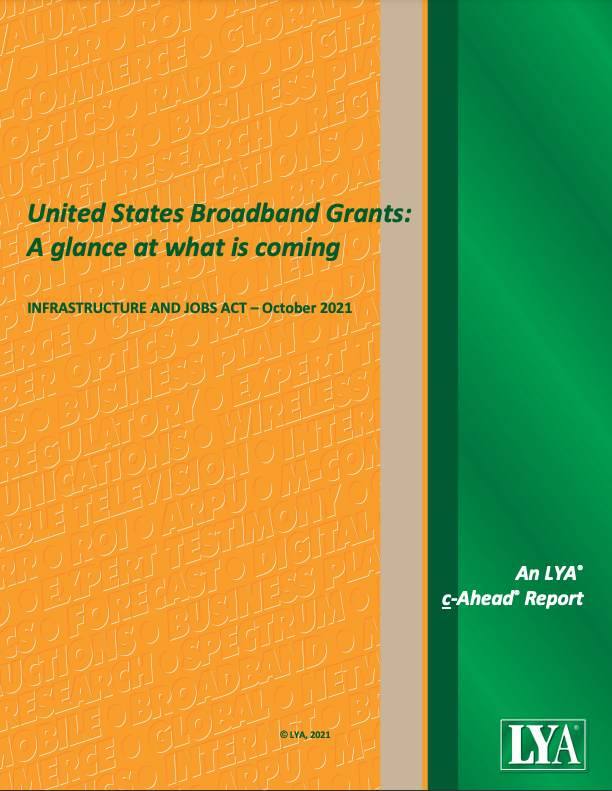 For a primer on the Broadband funding aspects of the Act, please fill out the form below to access our c-Ahead Report.