Recent Evolution of Average Auction Spectrum Prices in the US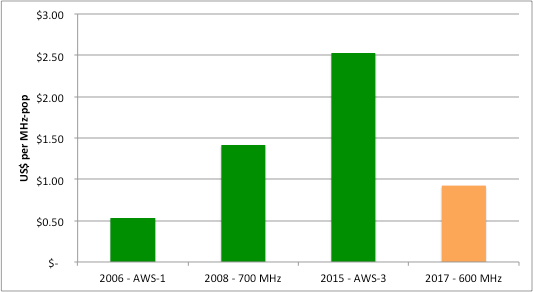 At the end of the clock phase for the US 600 MHz Incentive Auction
Nearing the end of the US 600 MHz Incentive Auction
The US 600 MHz Incentive Auction will end March 30 after the assignment phase, having cleared 70 MHz, more than in the AWS-3 and 700 MHz auctions. Prices at the end of the clock phase for the awarded spectrum are lower than expected, a good thing for mobile carriers. The average price for spectrum at the end of the clock phase is also less than half the average price paid by US carriers in the 2015 AWS-3 auction and much lower than the average price paid in 2008 for similar 700 MHz spectrum. We will know more at the end of March if mobile carriers were willing to spend any significant amount of money for particular blocks within the band.
While this result may indicate that this spectrum was less valuable to mobile carriers than previously auctioned bands, it may be that the relatively low average price is a result of the auction format and of the expectations built ahead of the auction.
The award of spectrum using the same or a similar 600 MHz frequency band is upcoming in a number of countries, including Canada and others in the Asia-Pacific region over the next few years. This band should become a prime 5G band to help achieve ubiquitous coverage.
Contact LYA if you would like to understand the details and implications of the USA 600 MHz broadcast incentive auction or are interested in innovative auction designs for the purpose of clearing spectrum for new users.
3.5/3.6 GHz Auctions Around the World
3.5/3.6 GHz spectrum in 3GPP bands 42 and 43 is gaining traction around the world. The value of this spectrum has increased rapidly when one considers the capacity requirements for mobile data in urban as well as in many less dense areas. The USA is one of the countries expected to release spectrum in this band in the short term.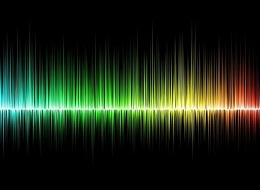 LYA is at the forefront of the developments in this spectrum band. We have developed detailed spectrum valuation for this band in the context of 5G deployment. A key benefit of bands 42 and 43 is that a large number of contiguous spectrum blocks can be awarded in many countries.
LYA has provided auction support for 3.5/3.6 GHz spectrum, both for fixed wireless and mobile applications in Canada and in Europe, as well as conducted a private sale of 3.5 GHz licences. An auction process for 350 MHz of spectrum in the 3.6 GHz band was launched in Ireland in 2016, a spectrum award for 190 MHz (3410-2600) for both fixed wireless and mobile has been announced in Montenegro with large FDD blocks on offer, Austria has identified the bands 3400-3600 and 3600-3800 for award in the near term and OFCOM in the United Kingdom still has in its plans to auction spectrum in the 3.4 GHz Band band in 2017. Let us know if you need to plan for spectrum award in these bands or need to review your 5G spectrum strategy in light of these developments.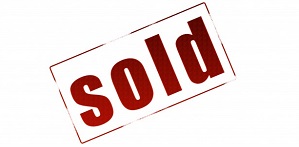 Private Auctions for Spectrum Licenses
LYA offers its clients the ability to conduct private auctions to sell spectrum licenses leveraging our expertise in spectrum valuation and our online secure Auction Platforms.
LYA successfully sold a number of 3.5 GHz spectrum licenses in 2016 on behalf of a client using an auction process. We can help your organization realize the full value of your spectrum assets in a timely and efficient manner. Please view our brochure or contact us for details.