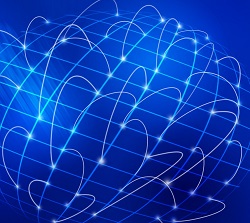 On the other hand, large carriers in the US have already jumped on the 5G bandwagon and are moving to live customer trials in 2017, ahead of standards being finalised. Verizon is deploying 5G in 11 markets in 2017 focused on providing (fixed) wireless broadband gigabit services to homes. Verizon has already completed pre-commercial 5G trials using 28 GHz millimeter wave spectrum.
On May 2, 2017, T-Mobile USA announced its intention to deploy a nationwide mobile 5G network by 2020, highlighting its key difference with Verizon that, up to now, has stressed fixed wireless for 5G.
Gigabit speeds using mobile networks need not necessarily wait for the deployment of 5G. Network densification of LTE Advanced can yield speeds of the order of 1 Gbps. AT&T is deploying four-channel carrier aggregation among other things to achieve these speeds on its 4G network in 2017, referring to this as "5G Evolution".
Back to the upper bands, we note that the 28 GHz spectrum band – 2100 MHz in total capacity – was awarded in Canada in the mid 1990's. The licenses were revoked in 2002 due to lack of payment of regulatory fees. Licenses in the 24 GHz (400 MHz) and 38 GHz bands (800 MHz) were awarded by auction in 1999. Additional 38 GHz licenses were made available on a first-come first-served basis.
In a 2014 decision, Industry Canada determined that 24/38 GHz auctioned licenses could be renewed if deployment conditions have been met. Otherwise, available spectrum would be made available on a first-come first-served basis.
Given the growing interest in use of upper bands (24/28/38 GHz frequencies) for 5G "super" hot spots, Industry Canada may want to consider a future auction process, as may be in the works eventually in the US as well.
All of these 5G developments open up significant opportunities for broadband access as well as wireless delivery of video streaming services, in competition with the current wireline telco and cableco networks.
Could this spell the beginning of the decline of carriers that don't have mobile networks? While many argue this is not the case, the high level of investment to deploy 5G and provide Gbps speeds wirelessly also means that those making the investment to build out will be pursuing every revenue-generating opportunity available.
Bell Canada recently alluded to a new TV streaming service to be made public over the next few weeks as it steps up its efforts to counter an increasing number of OTT service providers and as consumer viewing habits evolve. This could also include leveraging future 5G capabilities for either mobile or fixed applications, although the strict implementation of net neutrality in Canada could curtail their enthusiasm.